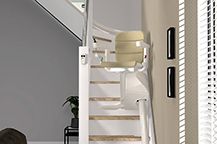 As with buying anything, we tend to buy from people or brands we've either personally had a good experience with or have been recommended to us.
We, Stairlift Experts, understand this and appreciate that you probably have not had previous experience with, or even know of, many stairlift companies.
We are an independent family-run company proud to work with a selection of reputable stairlift manufacturers. We are 100% unbiased, our reviews are honest, and we would not recommend a stairlift manufacturer we'd not be happy to buy from ourselves.
We work with some of the best stairlift manufacturers in the UK.
Companion stairlifts are a well-established UK stairlift company whose head office is based in Guiseley, Leeds. They are part of the Handicare Group, which Savaria Corporation acquired in 2021. Savaria Corporation are listed on the Toronto Stock Exchange (SIS: TSX).
Handicare has a large manufacturing warehouse on the Pensnett Trading Estate in Kingswinford, near Dudley. Companion provides stairlifts for charities such as AgeUK. Companion stairlifts supply both straight and curved models.
Their straight stairlifts include the Handicare 950+, Handicare 950 compact, Handicare 1000 and the more recent Handicare 1100. These were previously known as Minivator 950+, Minivator 1000 etc.
Their curved stairlifts include the Handicare 2000, previously known as the Minivator 2000, and the more recent Freecurve stairlift, which can handle stairs as narrow as 690mm.
Acorn stairlifts are one of the largest national stairlift companies. Based in Steeton, West Yorkshire, they too offer straight and curved chair lifts for stairs.
Acorn's straight stairlifts include the Acorn 130, which supersede their 120 model and their curved stairlift model is the Acorn 180.
Acorn stairlifts also offer an outdoor stairlift but only for straight stair cases and not for properties close to the coast.
Acorn has international operations and boasts "Somewhere worldwide; an Acorn stairlift is installed every 8 minutes".
Brooks stairlifts are sold and manufactured by Acorn. The Brooks Lincoln straight stair lift is the same as the Acorn 130. A great, robust and comfortable model for users up to 19 stone with a straight staircase.
We should also make you aware of thyssenKrupp Encasa, a division of ThyssenKrupp Access Ltd; another national stairlift manufacturer based in Stockton-on-tees. ThyssenKrupp make the Flow X, a great stairlift solution for very narrow stairs.
Other stairlift companies include Stannah, the oldest running UK stairlift manufacturer, Platinum, Bespoke and Meditek Stairlifts.
---
If you're looking for companies who buy second hand stairlifts, head over to this page.
---
Trusted stairlift companies we work with