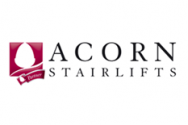 Acorn Stairlifts is based in Yorkshire, and since its formation in 1992, it has grown to become one the largest manufacturers of Stairlifts in the world. The company prides itself on the quality and reliability of its products, its customer service and ongoing support available 24 hours a day, 365 days of the year.
The Acorn Stairlift is operated by a simple paddle control which you simply push in the direction you want to move. It's designed to be operated by even the slightest touch, so it's easy to use by those with limited dexterity. It also comes with two remote controls, so you can summon your Stairlift to you from the top or the bottom of the stairs, or send it away to another user.
Why compromise your lifestyle and freedom because of difficulty with getting up and down the stairs? An Acorn Stairlift could be the key to retaining your independence, while still being able to enjoy the beauty and space of the home you love.
An Acorn Stairlift gives you a safe, comfortable and simple way to get up and down your stairs. Each Acorn Stairlift is tailor made, in their UK factory, to suit your individual home and lifestyle. They are designed for fast installation with a range of cleverly engineered features that make them quick and simple for us to install and more importantly for you to use.
Acorn's unique rail system means that they can fit a stairlift to all types of staircases, and what's more, they can do so within a matter of days rather than weeks. In fact, 37% of Acorn customers chose them for next day installation
Features of the Acorn Stairlift
Built in Britain
Simple directional controls
Safe and reliable
Built-in safety sensors
Remote control operation
Smooth near silent operation
Operates during a power outage
Acorn Stairlift Models
As a leading provider of stairlifts, the Acorn stairlifts range features excellent options to suit the requirements of almost any individual and staircase configuration. If you are looking for a top quality product that is matched by outstanding levels of customer service, Acorn will provide a definite match. Let's take a look at the range of stairlift models Acorn has to offer: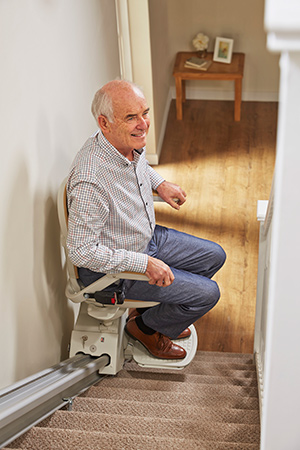 Acorn 130 Straight Stairlift
Also known as Acorn Superglide, for straight staircases, the Acorn 130 is the perfect choice. Designed and manufactured purely for the benefit of the user, the 130 comes with easy to use controls located on the arm rest as well as hand-held remote controls to 'call' or 'send' the lift up and down stairs. Safety sensors will automatically stop the lift if it encounters obstruction and the light-weight padded seat can easily be folded when not in use. A seatbelt is also included for extra safety during use.
This straight track chairlift model is also available as a standing option as explained below.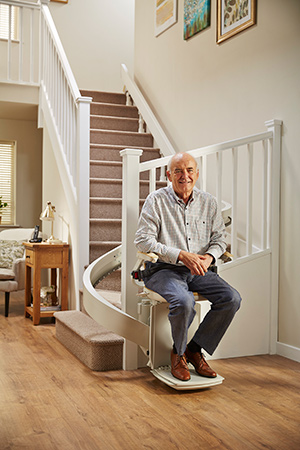 Acorn 180 Curved Stairlift
Also known as Acorn 80, for more complex staircases (i.e. curved or multi tiered), the Acorn 180 stairlift model offers the perfect versatility. The Acorn 180 curve can configure with any staircase and uses a unique modular rail system to ensure installation can be completed quickly and with minimum fuss. The slim fold-away design fits perfectly to the stairs (unlike other stairlifts which are wall fitted) and comes with automatic speed adjustment for enhanced performance. The seat is padded for comfort and ease of operation is guaranteed in the form of a directional paddle switch and remote control for "calling" or "sending" the stairlift up and down the staircase. The Acorn 180 stairlift also comes with lockable on/off switch to prevent others from using it.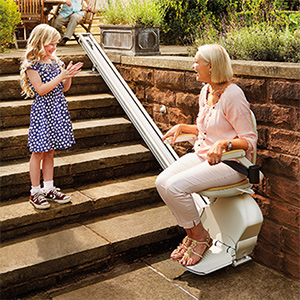 Acorn Outdoor Stairlift
The Acorn Outdoor Stairlift is the perfect solution for anyone in need of a stairlift to navigate stairs on the outside of their home. This model comes with all of the same features as the 180 but has been modified accordingly for water-proof exterior use and protection against the elements.
It's advisable to purchase a protective cover to protect the stairlift from the elements when not in use.
Sit and Stand Stairlifts
The Acorn stairlifts range is also able to cater to people that have trouble bending their knees, and those that need to stand when travelling on a stairlift. The Sit and Stand stairlift takes the Acorn 130 model and customises it to offer comfort to those with different requirements.
Unfortunately, Acorn do not offer the Sit and Stand option on their curved 180 model, so if you're looking for sit/stand stairlift on a curved staircase then you will need to look at an alternative stairlift supplier.
Acorn Stairlift Prices | Acorn Stairlift Rental
Next Step:
If you're looking for a Acorn stairlift at the best possible price, let us help.