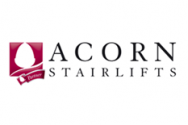 Acorn Stairlifts is based in Yorkshire, and since its formation in 1992, it has grown to become one the largest manufacturers of Stairlifts in the world. The company prides itself on the quality and reliability of its products, its customer service and ongoing support available 24 hours a day, 365 days of the year.
The Acorn Stairlift is operated by a simple paddle control which you simply push in the direction you want to move. It's designed to be operated by even the slightest touch, so it's easy to use by those with limited dexterity. It also comes with two remote controls, so you can summon your Stairlift to you from the top or the bottom of the stairs, or send it away to another user.
Why compromise your lifestyle and freedom because of difficulty with getting up and down the stairs? An Acorn Stairlift could be the key to retaining your independence, while still being able to enjoy the beauty and space of the home you love.
An Acorn Stairlift gives you a safe, comfortable and simple way to get up and down your stairs. Each Acorn Stairlift is tailor made, in their UK factory, to suit your individual home and lifestyle. They are designed for fast installation with a range of cleverly engineered features that make them quick and simple for us to install and more importantly for you to use.
Acorn's unique rail system means that they can fit a stairlift to all types of staircases, and what's more, they can do so within a matter of days rather than weeks. In fact, 37% of Acorn customers chose them for next day installation
Features of the Acorn Stairlift
Built in Britain
Simple directional controls
Safe and reliable
Built-in safety sensors
Remote control operation
Smooth near silent operation
Operates during a power outage
Acorn Stairlift Prices | Acorn Stairlift Models | Acorn Stairlift Rental