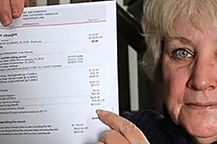 We often get asked...
"How much should I expect to pay for a curved stairlift?"
As Stairlift Experts, this article will not only answer that question but will show you how to get the best value quotation for a curved stairlift in the UK.
But first; let's look at why this question is asked so frequently.
Stair lift companies simply do not promote prices on their website or brochures, leaving prospective buyers bewildered and sometimes cautious. This article aims to alleviate that concern and leave you a little bit more informed.
Curved stairlifts are more expensive than straight stairlifts simply because of the curved rail which the carriage travels on. The carriage is often identical.
We have another article on straight stairlift prices.
The cost to manufacture a curved rail is significantly higher than a straight rail. This is due to the fact the curved stairlift rail is manufactured specifically for you, to fit perfectly to the contours of your stair case. As you can imagine, there are many designs of stair case so it would be difficult for a stair lift company to give an accurate price prior to an on-site survey. However, since this article is all about 'THE AVERAGE PRICE', we'll get to those 'average prices' in a bit.
You may therefore wonder why curved stair lift prices vary so much. I mean, the carriage (seat part) is exactly the same as that of a straight stairlift model, so why do some companies charge considerably more than others? Well, the big difference in price usually comes down to three things;
The rail, more specifically the manufacturing process
Number of curves in the rail
Additional features
Remedial works
1. The curved rail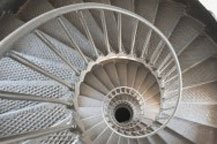 Some companies offer pre-made rails. These are a collection of pre-manufactured rails of varying angles and lengths selected to make a kit most suitable to the contours of your stair case. Naturally this solution is cheaper than a complete bespoke rail manufactured specifically for your stair case.
Curved stairlift rails, which are not modular, need to be custom-built to fit the specific dimensions and shape of the staircase. Each curved staircase is unique, requiring a technical survey capturing precise measurements, detailed design, and manufacturing, which adds to the overall cost.
Both bespoke manufactured rails and rail kits have to comply with the same safety standards (BS 5776).
2. Number of curves required
The number of curves required will increase the manufacturing costs for a bespoke curved rail. Likewise, the more curved rail components of a curved rail kit will also increase the overall price.
A starting price for a new curved stairlift with one turn, suitable for a 'one turn' stair case, would be:
Bespoke manufactured: £5,000
Curved rail modular kits: £4,400
These average figures are based on our independent industry knowledge.
3. Curved stairlift features
On top of these average costs, the price of a curved stairlift may increase with optional extras such as:
Power swivel seat to help the user mount/dismount versus a manual swivel.
Folding footrest, arms and seat to reduce amount of room the stair lift takes up while not in use.
Rail extensions, room permitted, to allow user to dismount the stair lift further away from top of stair case.
Power hinged rails, allowing the top/bottom part of the chairlift rail to be folded away, reducing the dangers of trips and hazards.
Lastly, choice of upholstery and trim finish.
Curved Stair lift models currently available on the market
Acorn 180 Curved Stairlift – Sold through Acorn Stairlifts
Handicare 2000 Curved Stairlift – Sold through Companion Stairlifts
Starla, Sarum, Solus, Sofia, Sadler – Sold through Stannah Stairlifts (these are not 5 different curved stair rails, these are 5 differently designed carriages/seats).
ThyssenKrupp Flow X
4. Installation complexity
Installing a curved stairlift involves more intricate and time-consuming installation processes compared to a straight stairlift.
5. Design and engineering
Curved stairlifts require advanced engineering and design expertise to ensure they safely navigate the bends, corners, and inclines of the curved staircase. The complexity involved in creating a reliable and smooth operation adds to the higher cost.
6. Remedial works
Any other work involved in fitting a stairlift is typically classed as "remedial works". This could be moving a radiator positioned in the way of the stairlift, wiring an electrical spur to the required location or carpentry work to the staircase, or perhaps an overhanging window cill halfway up the staircase, which might cause a clash as the chair travels up and down the stairs.
How to get the best curved chair lift price
We partner with the UK's largest stair lift manufacturers. Our aim is to get you the best stairlift price.
Our service saves you time, effort and ultimately money. It's free of charge and hassle free.
Oh, and did we mention that we'll send you a £50 M&S voucher as a 'thank you' for using our free service – should you choose to buy a stair lift from one of our highly competitive quotations?
Fill out our short form and receive up to 3 no-obligation quotes direct from the manufacturers (so no middle-man fees)!
Next Step:
If you're looking for a curved stairlift at the best possible price, let us help.