Up until a few years ago it was only possible to get one type of lift for inside the home, a wheelchair stair lift designed for seated patients. In the last decade however, there has been a quiet revolution taking place in the home lift market with several different styles of through-floor-lift (TFL) becoming available. You can now sit, stand or perch in a homelift while you travel from one floor to another.
What's more, today's most contemporary home lifts simply plug into a standard electrical socket, which means they are exceptionally energy efficient.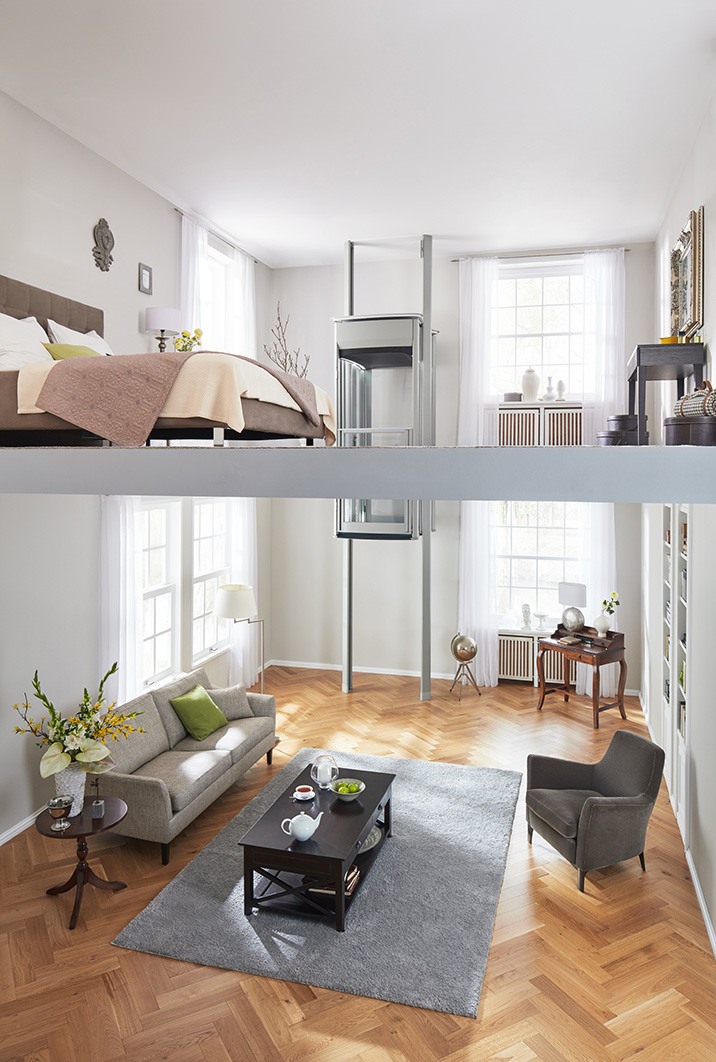 If you're looking for a through-floor lift at the best possible price, let us help you find the right local provider.
All domestic lifts work on the same principle; an aperture is created in the ceiling / floor and the lift car passes through it. Once fitted, the lid of the lift should be strong enough to walk on upstairs when the lift is parked in the downstairs space.
Today's compact home lifts don't take up much room in the property; the most space-saving types travel on slim rails which are positioned either side of the lift car and the whole assembly can neatly tuck into the corner of a room. Larger TFL's are available specifically for wheelchair users. Again, choosing the more compact wheelchair lifts on the market will allow individuals to negotiate their way through the home and easily access the lift without compromising room layout. There's even one manufacturer who provide a home lift with a 'ThruCar' capability. This is a lift with a door on either side; it allows users to enter the lift on one side, and exit on the other. Customers who install a lift into the turning space of their stairs, or customers who rely on a wheelchair, find these ThruCar domestic lifts particularly useful.
All reputable residential lift companies will work closely with you to plan the best location for your lift. They will send brochures, if requested, before an appointment is made so you're more familiar with their products and solution before proceeding to a home survey. One of their surveyors will need to visit you at home to measure the space available for a TFL, and will also be able to answer any questions you might have.
The majority of home lift providers will manage the entire process for you, from technical survey, through building work to installation of the lift and handover. You should always expect a thorough introduction to your new lift from the installers once the work has been completed.
Some of the more modular domestic through-floor-lifts can be installed in as little as a day once the building work has been completed.
Most contemporary domestic lift cars are enclosed with either a half height or full height door for added security. The more highly-specified home lifts come with clear car sides so they seamlessly blend into the home environment. All are fitted with the required safety features such as hold to run controls, light curtains which stop the lift if the light is breached, auto-stop sensors and in-car emergency telephone.
How much does a home lift cost?
A home lift is not as expensive as you might think. Prices start at around £11,000 including creation of the aperture and installation, with most companies charging extra for any building work that might be needed.
If the diabled lift is needed as the result of a medical condition the purchase can be VAT exempt, and there are also various means-tested grants available for people who have mobility issues and who need to access all floors in their home.
The convenience and safety of a wheelchair lift means those with limited mobility don't have to worry about transferring from wheelchair to stairlift and then back to an upstairs wheelchair. They can simply and easily enter the lift in their wheelchair and travel upstairs.
Let us help you find the right wheelchair lift for your home at the best price.
Installing a through the floor lift is often more cost-effective than building a downstairs extension or moving house to a bungalow or retirement flat. And many people prefer to remain living in the home they love with minimal disruption – and as a home lift can be installed very quickly, this is a perfect solution.