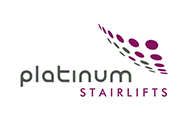 Stairlifts play a vital role in the lives of individuals seeking to maintain their independence within their own homes. Whether you're exploring options for yourself or a loved one, the right stairlift will provide a safe and comfortable way to conquer the (literal!) ups and downs of daily life.
In this review, we'll take a closer look at one of the UK's leading stairlift brands, Platinum Stairlifts.
About the Company
For 25 years, Platinum Stairlifts has been at the forefront of manufacturing high-quality stairlifts. Based in Yorkshire, UK, they have earned an international reputation for their dedication to producing reliable, innovative stairlifts suitable for various types of staircases. All their products are meticulously crafted by hand and shipped to customers worldwide. Platinum Stairlifts takes pride in its commitment to providing the highest levels of quality, safety, comfort, and reliability, all while ensuring that every stairlift is custom-built to meet individual needs.
Features We Love
Features: Platinum Stairlifts offers an array of features that set them apart in the market, including:
Choice & Custom-Built Quality
Platinum Stairlifts offers three expertly crafted, stylish, and comfortable models that can be customised to your specific needs. These options include power-assisted controls, seat adjustments, direction of travel, and upholstery choices. The company produces options that can accommodate narrow or steep staircases, tight turns, or space constraints in your home.
Innovation
The Platinum Ultimate stairlift is a testament to their commitment to innovation. It introduces Forward-Facing Travel, ideal for individuals with narrow staircases or mobility limitations. The 'First Step Start' option eliminates the need for the rail to extend into your hallway, ensuring unhindered access to doors and walkways.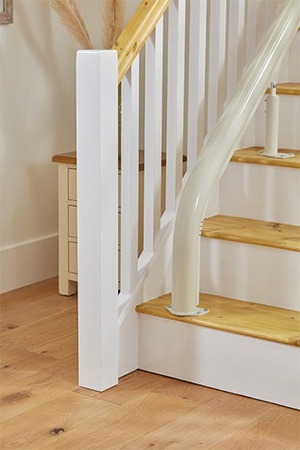 First step start designed for stairs with little room at the bottom of the stairs.
Comfort
Platinum's stairlifts are designed with everyday usability in mind. Their stairlifts feature easy-to-operate controls, adjustable arms, backrests, and footrests. The ergonomically designed padded chairs provide support for users of all shapes and sizes.
Safety
Safety is a top priority, with every stairlift rigorously tested and accompanied by a personalised signed certificate of quality. This assurance allows customers to live independently in their own homes with peace of mind.
Space-Saving
Platinum Stairlifts also consider the convenience of family members and visitors. Their stairlifts come with space-saving features, including a foldaway seat, arms, and footplate. They also offer rail options that can start from the first step or a powered hinge, which keeps hallways clear from obstructions.
Platinum Stairlift Models
Platinum offers three cutting-edge models to choose from:
Best For Straight Staircases: The Platinum Horizon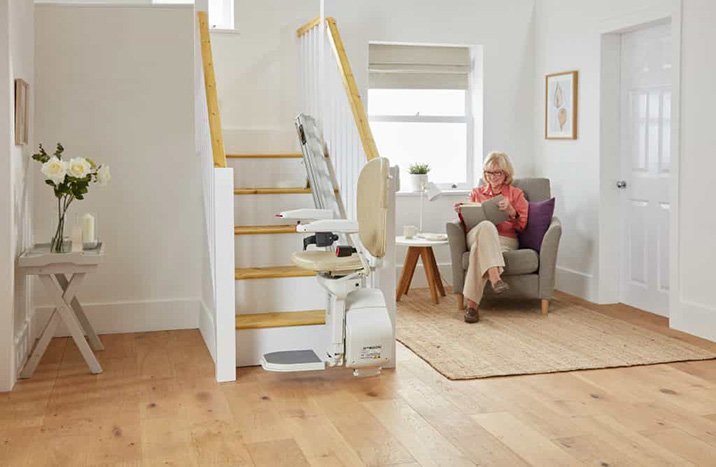 The Horizon range offers seats in four different colours and various customization options to guarantee a smooth and comfortable ride tailored to your preferences.
This stairlift is not limited to indoor use; it's engineered to withstand all weather conditions, making it an excellent solution for a straight external staircase leading up to your house or a few steps down to the garden.
The Horizon prioritises comfort with features such as a lever-assisted footrest, eliminating the need for awkward bending. Customers can opt for a manual lever or a powered swivel chair to facilitate easy movement at the top and bottom of the staircase. A robust straight stairlift worth serious consideration.
Space-Saving Solutions: The Platinum Horizon is designed with your living space in mind, offering space-saving features that keep your home accessible to family and visitors.
The Horizon model, like all Platinum Stairlifts, is rigorously tested and built to accommodate up to 22 stone (140kg), ensuring a secure and worry-free ride.
Best For Twists, Turns and Landings: The Platinum Curve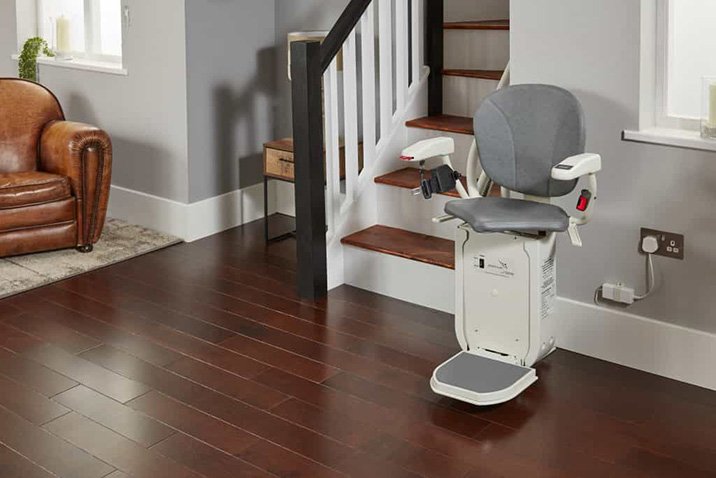 For those with staircases that twist, turn, or include landings, the Platinum Curve Stairlift offers a tailor-made solution. This stairlift is expertly crafted to fit nearly any home, ensuring a smooth and comfortable ride, even on the most challenging turns, thanks to its versatile twin-rail design.
Features include a lever-assisted footrest, eliminating the need for awkward bending, and the choice between a manual lever or powered swivel chair for effortless in-and-out movements. With a robust weight capacity of up to 22 stone (140kg), the Curve prioritises your safety and comfort throughout the journey.
Most Luxurious: The Platinum Ultimate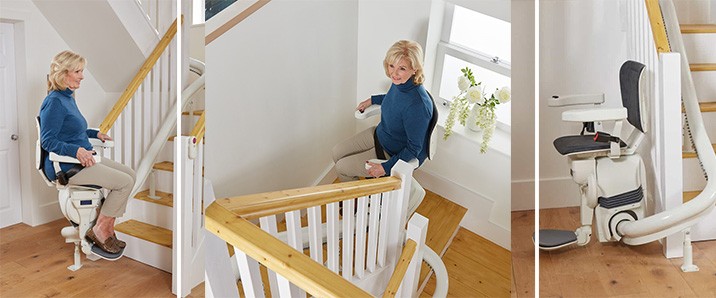 This exceptional stairlift is the pioneer in offering Forward-Facing Travel, making it a game-changer for those who struggle with bending their legs or experience vertigo. The First Step Start feature allows you to specify precisely where the rail commences and concludes, providing a clean and dependable solution that keeps your doors and walkways free from obstructions, all without the need for a hinge at the foot of the stairs.
Conclusion
The Ultimate Stairlift boasts a contemporary single-rail design that elegantly fits closer to your wall, enabling it to seamlessly navigate even the narrowest or steepest staircases.
This stairlift doesn't just stop at innovation; it's loaded with industry-leading features that prioritise your safety and comfort. With a weight capacity of up to 25 stone (160kg), it's the only single-tube stairlift on the market that can accommodate such a range. The adjustable seat, arms, and lever-activated footrest cater to your unique comfort needs.
The space-saving' First Step Start' ensures your floor space and doorways remain unobstructed, and the option for complete Forward-Facing Travel enhances your overall experience.
The Platinum Ultimate Stairlift provides flexibility with your choice of joystick or rocker switch device controls, which can be easily customised and installed in either the left or right armrest to suit your preferences.
How It Works
A stairlift surveyor will conduct a thorough survey of the staircase, measuring all points and widths to ensure the stairlift will be fitted without any problems. Based on the survey and user's requirements, a detailed quotation is provided, with absolutely no obligation to make a purchase.
If you're happy with the quotation, warranty and terms offered, your stairlift can usually be fitted within a matter of days once the quote has been accepted.
The installation process is quick and straightforward, ensuring you can swiftly return to enjoying the comforts of your home.
Choosing the right stairlift is not just about enhancing mobility; it's about securing comfort, independence, and peace of mind. With Platinum Stairlifts, you're not just choosing a product; you're choosing a lifestyle that empowers you or your loved ones to move forward with confidence and convenience.
Next Step:
If you're looking for a Platinum stairlift at the best possible price, let us help.