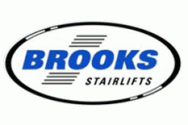 Brooks Stairlifts began in 1973 after Frederick Brooks designed a stairlift for his wife, Grace, whose rheumatoid arthritis made it hard to use the stairs. The innovative design became Britain's first stairlift. Brooks has remained at the forefront of stairlift design and development over the last 30 years.
Brooks latest model is the New Lincoln Stairlift for straight stairs and a curved stairlift that can be fitted on most types of stairs with turns and curves. Stand or perch models are available for users who have difficulty bending their knees to sit on a seat, as well as an outdoor stairlift. All Brooks stairlifts are designed with your comfort and safety in mind. They are operated by a joystick that you simply need to gently push in the direction of travel. For your convenience, each stairlift has a remote control system so you can move your lift up and down the stairs as required.
Next Step:
If you're looking for a Brooks stairlift at the best possible price, let us help.