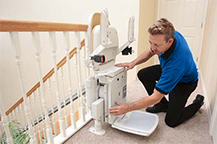 Introduction
Installing a stairlift in your home can significantly improve your mobility and independence. However, the installation process may seem unfamiliar and potentially overwhelming. This article will guide you through the stairlift installation journey, providing a comprehensive overview of what to expect and how to prepare.
Initial Consultation: The process typically begins with an initial consultation with a stairlift professional. This expert will assess your home, survey the staircase, and discuss your specific requirements and needs. They will address any concerns or questions you may have and recommend the most suitable stairlift model for you or your loved one's needs.
Customisation Options: Stairlifts can be customised to fit your home's unique layout and your loved one's preferences. During the consultation, you will have the opportunity to choose various features, such as seat upholstery, colour options, control mechanisms, and accessories. Understanding the available customisation options will help you make informed decisions that cater to your loved one's comfort and style preferences.
Quotation: Based on the surveyors' technical survey, your personal requirements and feature choices, the stairlift surveyor will leave you with an obligation-free quotation.
Order: Should you wish to proceed, an order form is produced and signed. Should you want longer to think about it, the quotation is usually valid for 30 days - check with your surveyor to be sure, sometimes it's longer. Once an order is signed, a deposit is taken, and an installation date is booked at a convenient time for you.
Wait time: A straight stairlift can typically be installed within a day or two of ordering, depending on stock levels, current workload and engineer availability. Curved stairlifts will take a little longer, typically 10 working days, if it's a custom-made rail. If you go with a modular curved rail kit this wait time can drastically be reduced.
Preparing the Staircase: Before the installation day arrives, there are a few essential steps to prepare the staircase. Clear any clutter or obstacles that may hinder the installation process or obstruct the stairlift's path. It's important to ensure the area is clean, safe, and easily accessible for the installation team. If you plan to change your carpet, now's the time to do it before installation commences. If necessary, consider removing any valuable or fragile items from the vicinity to prevent accidental damage.
Installation Day: On the scheduled installation day, a team of trained professionals will arrive at your home with your new stairlift, the necessary equipment and tools. They will carefully install the rail system along the staircase, ensuring a secure and stable fit. The rail is ALWAYS fitted to the stair tread, not the wall. The stairlift unit will be assembled and attached to the rail, with particular attention to safety measures and proper alignment.
Installation Duration: A straight stairlift will typically take 3 to 4 hours to install. A curved stairlift will take longer depending on the number of turns and complexity of design but all stairlifts will be fitted and handed over within a day.
Testing and Demonstration: After the installation is complete, the installers will thoroughly test the stairlift to ensure it operates smoothly and meets all safety standards. They will also provide a comprehensive handover, showing you and your loved ones how to operate the stairlift, utilise safety features, and handle any potential emergencies or malfunctions. Feel free to ask questions and seek clarification during this demonstration to ensure a clear understanding of the stairlift's functionality.
Conclusion
By familiarising yourself with the stairlift installation process and adequately preparing your home, you can ensure a smooth and successful experience for your ageing loved one. Remember, professional installers will be there to guide you every step of the way and address any concerns you may have. Installing a stairlift will bring newfound freedom and mobility to your loved one's life, allowing them to navigate their home with ease and confidence.
Next Step:
If you're looking for a stairlift at the best possible price, let us help.