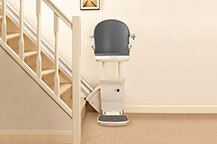 Standing stairlifts in the UK. Which manufacturers make stand-up stairlifts, and how much do they cost? Let's discover compact stand-on stair lifts for the elderly.
What are Standing Stairlifts?
Standing stairlifts are mobility devices that allow individuals to travel up and down stairs while standing upright... well, almost. They are designed with a high perched seat, more like a ledge than a seat. The ledge/perched seat is designed to rest your buttocks on, thus supporting some of your weight whilst having a slight bend at the knees.
Just to be clear. It's not this.
We often get asked about this product. People find it online when searching for "standing stair lifts" and think this is the perfect home step lift solution. Whilst we agree this looks neat, tidy and kind of cool, it's not designed for a home staircase, unlikely to adhere to UK H&S legislation; hence it's not a product available here in the UK.
Nor, is it a product like this.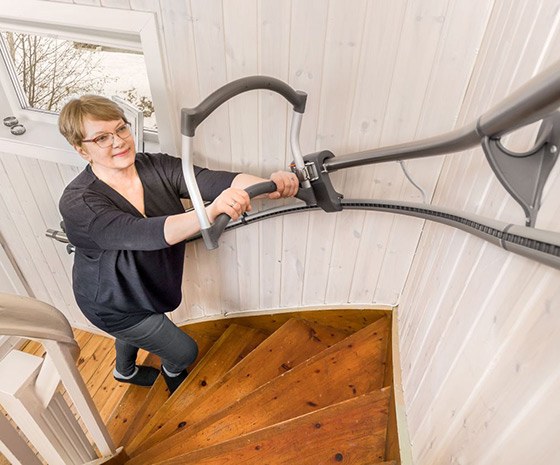 This is a step climber.
It's this! Albeit an old model, it clearly illustrates what a stand on stair lift actually is.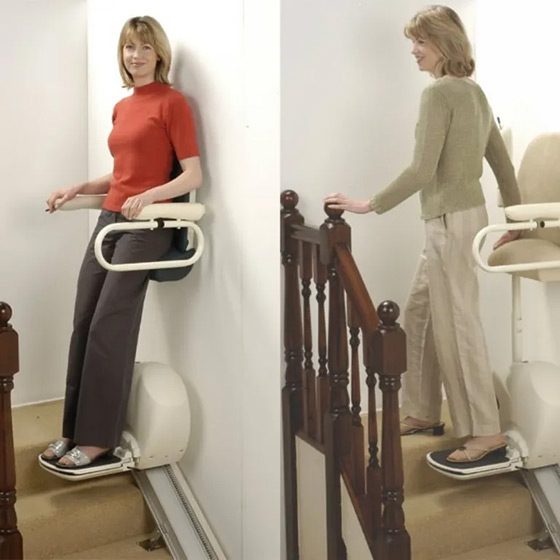 Who is a Stand-On Stairlift Designed For?
Why would you want to ride a stair lift standing up?
Stand-on stairlifts are ideal for people who have difficulty bending their knees, hips or sitting for extended periods of time.
Getting in and out of a chair can also be tricky, whether it's due to post-op hip or knee replacements, recovering from injury or simply down to ageing joints. With a standing stair lift, you won't have to worry about that.
Standing stairlifts are also ideal for those with limited space in their homes, as they take up slightly less room than traditional seated stairlifts.
Standing stairlifts have a slightly larger footplate than seated stairlifts, although, like seated stairlifts, they can fold away neatly and compact when not in use. They are also easier to use for people with certain physical limitations.
Bottom line: If you have difficulty bending your knees, hips, find sitting uncomfortable or have a small space, standing stair lifts could be the right option.
Benefits of a Standing Stairlift
Increased independence and mobility
Standing stairlifts provide greater independence and mobility for individuals with difficulty navigating stairs. They allow users to move freely between floors of their homes without relying on others for assistance. Some elderly people require help getting up and down from a seated position. With the stand-up stairlift, this isn't a concern.
Improved safety and accessibility
Like all stair chairlifts, standing stairlifts have safety features such as seat belts, footrest sensors, and obstruction sensors to prevent accidents and ensure a smooth ride. They also make stairs more accessible for people with mobility issues, reducing the risk of falls and injuries.
Spacesaving design
Standing stairlifts have a compact design that takes up less space than traditional seated stairlifts. This makes them ideal for homes with narrow or curved staircases and for those who want to preserve the aesthetic of their home.
Manufacturers of Standing Stairlifts in the UK
There are several manufacturers of standing stairlifts in the UK. Here are some of the top brands:
Handicare - Handicare offers the perch seat on their 2000 and new 4000 curved models and 1100 and 1000 straight models.


Stannah - Stannah offer a perched-style seat on their Saddler model. The picture shows the user half standing/half seated but the seat height is adjustable so is very effective for users who find a fully seated position uncomfortable.


Each manufacturer offers a range of models with different features and customisation options.
Features to Consider When Choosing a Standing Stairlift
When choosing a stand-up stairlift, there are several features to consider:
Weight capacity
Ensure the standing stairlift you choose has a weight capacity that meets your needs. Most standing models can accommodate up to 121kg/19.10st/267lb, but some stand up chairlifts can handle up to 136kg/21.5st/301lb. Unfortunately, because your weight is bearing down on the footplate, the max weight limits for stand-on stairlifts are less than a seated stairlift.
Speed and smoothness of ride
Look for a standing stairlift that provides a smooth and comfortable ride. Some models have adjustable speed settings to suit individual preferences but as a general guide, most stairlifts travel between 7cm-12cm per second.
Safety features
Make sure the standing stairlift you choose has safety features such as seat belts, footrest sensors, and obstruction sensors to prevent accidents. All modern residential stair elevators will have these features and safety belts as standard.
In fact, the Machinery Directive 2006/42/EC recently announced that any stairlift manufactured after April 2023, must have seatbelt detection, and interlocking armrests ensuring the chair lift can't operate until the seat belt is fastened and the armrests are in the down position.
Customisation options
Choose a standing stairlift that can be customised to fit your specific needs and preferences. This may include adjustable seat height, armrests, and footrests. Manufacturers offer different controls. Some may be more suited to your abilities.
How Much Do Standing Stairlifts Cost?
The cost of a standing stairlift depends on several factors, including the manufacturer, model, and features. Standing stairlifts for a straight staircase cost between £2,000 and £3,000 in the UK. If you have a stand-on stairlift on a staircase with turns/curves, then you can expect to pay £4,000 to £5,000 and potentially more depending on the number of turns and length of rail. Stairlift prices vary widely depending on the staircase, user's specific requirements and the installation's complexity.
Financing options and government grants are available to help offset the cost of a standing stairlift.
Installation and Maintenance of Standing Stairlifts
Professional installation is recommended for standing stairlifts to ensure proper function and safety. The installation process typically takes a few hours and involves securing the track to the stairs and mounting the chair.
Standing stairlifts require regular maintenance and servicing to ensure optimal performance. This may include lubricating moving parts, replacing batteries, and checking safety features.
Common issues with standing stairlifts include track obstructions, battery failure, and sensor malfunctions. These can usually be resolved with professional maintenance or troubleshooting.
Frequently Asked Questions About Standing Stairlifts
Can standing stairlifts be installed on any type of staircase?
Standing stairlifts can be installed on most types of straight or curved staircases. However, some models may not be suitable for extremely narrow or steep stairs. There are also fewer manufacturers who make standing stairlifts for curved stairs.
What's the minimum width a staircase can be to fit a stand-on stairlift?
The staircase width for a Stand-on stairlift depends on the manufacturer you choose. However, as a rule of thumb, you won't be able to fit a stand-on stairlift on staircases less than ~680mm wide without making adjustments to the newel posts and bannister.
How long does it take to install a standing stairlift?
The installation process for a standing stairlift typically takes a few hours, depending on the complexity of the installation. Longer track, more turns, and multiple floors with multi-stop stations will obviously incur longer installation times.
Is this the smallest stairlift?
A stand-on stair lift is compact and well-designed for smaller spaces, but it's not the only choice for narrow staircases. In fact, there's a traditional chairlift available, which surprisingly wins the "smallest stairlift" competition. This is not a perched or standing lift; it's a fully seated model, but it intelligently turns the chair as it climbs the stairs to avoid clashes with bannisters and newel posts.
I'm quite short. Will I be able to use a perched seat?
The height of a perched seat is adjustable. A perched seat will typically finish somewhere between 675mm-875mm from the footplate. We know people as short as 5' upto 6',6" using a perched seat stairlift.
I'm tall. Will a standing stairlift be suitable?
Being a tall person with low ceilings is not a good combination when buying a stairlift, even more so with a stand-up stair lift. In many houses, the ground-floor ceiling overhangs the bottom of the stairs. Therefore, when standing on a stairlift footplate, 100mm above the stair tread, your head will be very close to the ceiling as the stairs rise, typically around 3 or 4 steps from the bottom.
This detail will be picked up at the time of the survey, and if there's a chance of a bulk-head clash, then a stand-up stairlift will not be possible or recommended.
Are standing stairlifts covered by insurance?
Some insurance policies may cover the cost of a standing stairlift if it is deemed medically necessary. However, coverage varies by policy and provider. There are 3rd party insurers who will cover mobility products such as electric scooters and stairlifts. Take a look at Fish Insurance for more information.
Can standing stairlifts be rented instead of purchased?
Some companies offer rental options for standing stairlifts for straight stair cases. However, renting may not be cost-effective in the long term and may not provide the same level of customisation as purchasing.
Conclusion
Standing stairlifts provide a safe and convenient way for individuals with mobility issues to navigate stairs in their homes. When choosing a standing stairlift, consider factors such as weight capacity, speed and smoothness of ride, safety features, and customisation options. The cost of a standing stairlift can vary widely, but financing options and government grants are available to help offset the cost. Professional installation and regular maintenance are important for optimal performance and safety.
Next Step:
If you're looking for a stand up stairlift at the best possible price, let us help.