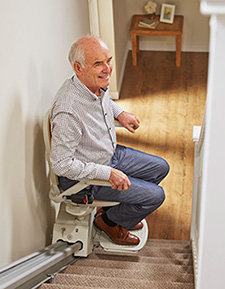 If you or a family member are in need of a home stairlift at the best price, you've come to the right place.
Based in Essex, our stairlift engineers operate across London and home counties (Berkshire, Buckinghamshire, Essex, Hertfordshire, Kent, Surrey, and Sussex).
We work directly with a large selection of stairlift manufacturers enabling us to offer "whole-of-market" range, ensuring you get the right stair lift for your needs.
Plus - If you buy a new stairlift through us we'll give you a £50 Marks and Spencers voucher.
We can source:
Best priced new stairlifts across London, Hertfordshire, Kent, Surrey, Buckinghamshire, Berkshire, Essex and Sussex reconditioned stairlifts (if you're on a budget)
Stairlifts for curved or straight staircases
Outdoor stairlifts
Slimline stairlifts for narrow stairs
Heavy-duty stairlifts with increased maximum weight allowance of 31.5 stone
We provide best value quotations. Our aim is to get you the best price stairlifts.
Give us a call on 020 8191 0096 or complete our online form to get the best prices direct from the manufacturers.
---
Stairlift Removals London & South East
You may be reading this having recently lost a loved one.
At such a sad time you have so many things to deal with, especially if you're getting a property ready for resale. This can often be overwhelming.
A stairlift will often make a stairway look cluttered and narrow which tends to hinder the sale of a property.
We can take some of the pressure off with our professional stairlift removal service.
We can remove any make and model of stairlift, making sure that everything left behind is made tidy and safe.
We are sensitive to every stairlift removal enquiry and do all we can to accommodate your needs in an empathetic way.
Submit a removal request here.
How Our Services Works
Depending on the model and age of the unwanted stairlift and our current stock holding, we may:
charge a fee to remove the lift, or
remove it for free and take it away or
offer to buy your stairlift and pay you for it.
Removal Cost
Our removal fees, if required, start from £125.
All stairlifts are disposed of correctly in accordance with applicable environmental regulations, so if we do need to charge you, travel, removal and disposal will be incorporated along with the labour costs.
We are Stairlift Experts. Established in 2010 with more than 35 years of experience in the stairlift industry.
Tell us more about your used stairlift by filling in this form and we'll get back to you with the best option.