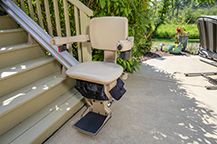 In addition to indoor stairlift models, outdoor stairlifts are also available; these are weatherproof but, in most other respects, are the same as internal stair lifts. Outdoor stairlifts can mount steps in front of a property's main entrance and for several other purposes.
Buildings that require public access are sometimes served by an external stairlift or level access platform lift for wheelchair users. A platform lift is sturdier than a stairlift as it must carry the user and their wheelchair.
The cost of an outdoor stairlift typically starts around £2,500 for a basic model fitted to a straight set of external steps. Such a lift is ideal for negotiating a difficult flight of steps to access raised-level gardens or steps up/down to a front or side door.
In most cases, the installation will take less than a day, and there will be a full warranty provided. Outdoor stair lifts can be slightly more expensive than indoor stairlifts because of their robust weatherproofing. Like in-home stairlifts, they come in straight and curved models; they also can feature security locks and weatherproof covers to keep them safe and secure.
Outdoor stairlifts come with the standard features of indoor models, including easy-to-use controls. The call buttons installed at the top and bottom of the steps will be fitted in an IP-rated waterproof housing to keep the electrics safe and dry. There is the option to have a wireless remote control so that the stairlift can be called when needed. A lap harness is standard, so the user is secure from falling from the lift and getting injured in the garden or on the steps.
The installation process will begin with a surveyor attending a site visit to assess the structure and dimensions of the steps where the stairlift will be fitted. Based on the surveyor's findings, a personalised quotation will be provided, 100% obligation-free.
To get the process started, please complete our request quote form.
Next Step:
If you're looking for a outdoor stairlift at the best possible price, let us help.