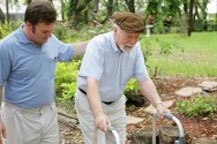 If your home has more than one floor and you are struggling to move around the house easily, having stairlifts in the home will open up the house again.
If you are worried that a trip or fall on the stairs could have a serious impact on your health, a stair lift could provide essential reassurance.
If you are worried about becoming a burden to your family, a stair lift could ensure that they no longer need to worry about being on-call twenty four hours a day.
If you are fed up of feeling frail and unsure, it may be time to install a stair lift. A domestic stair lift can give a vital lift to your self-confidence.
How would you cope in an emergency? Stairlifts in the home are battery-operated and, like other battery backup systems in the home – such as a burglar alarm system, will continue to work normally even if there is a power cut.
The painful aches and pains that often accompany getting older, especially when doing things like climbing the stairs, will be greatly alleviated by a chair lift installation.
You might think that you're home isn't suitable for a stair lift. If a curved staircase is the only thing holding you back, rest assured that there will be a stair lift available to suit your needs.
Home stairlift installation will keep users from tripping over potentially hazardous objects left on the stairs by visitors.
If you are suffering from more sprains and strains are you get older, you should consider a domestic stair lift.
If you find yourself feeling dizzy and out of breath when climbing the stairs, a stair lift could be the ideal solution.
Please fill in our form to the right of this page to request a quotation.
Next Step:
If you're looking for a stairlift at the best possible price, let us help you.